More than 60 expectant participants gathered at Tollares college in Nacka 22-23 July 2017.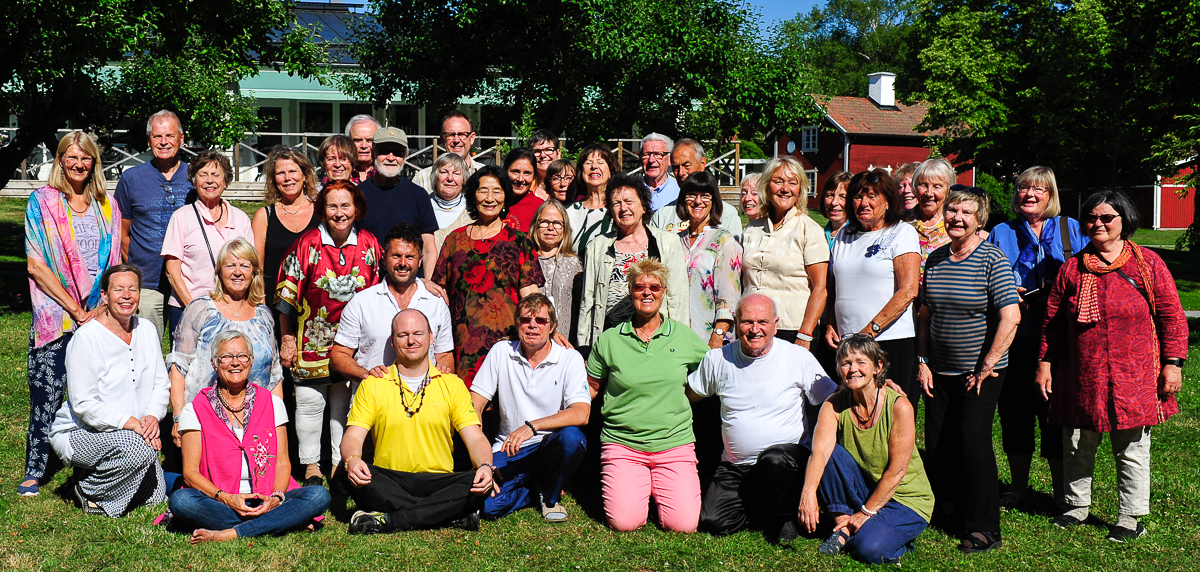 Our master Fan Xiulan greeted all welcome and she was glad that we gathered in such a beautiful place to celebrate the 25th anniversary together.
She told me that summer is the right time to get in touch with the heart's strength and joy. All the inner wisdom which means that we have the tools and methods within us. Each one selects the gear that fits a. Marie Bergman, for example, using voice and toning to spread vitality.
The aim of the morning was getting in touch with his heart light, soul. Because when we open our hearts, we can draw strength from the universe. The basis for the Biyun method is our concentration, by focusing on health, love and kindness we get great power and our energy level is raised.
Loving people put themselves in tune with the universe, they are grateful and are working selflessly and then something happens to their viability. They raised over the little self and becomes capable of far more than they thought possible. So you have to be aware of the little ego constraints and instead focus on the big ego. Helping others means helping yourself and then hold your heart open. Ask yourself what you want to be the man when you grow 75 years 90 år? Will you be healthy? Will you be curious to absorb new knowledge?
Then it was time for writer Anna Bornstein to speak on the theme of balance between heaven and earth.
When Anna speak I am always interested in depth. She told me that when she was growing up, they differentiated between heaven and earth, the underground was not worth much, but it was heavenly there be sought, but this approach creates imbalance. The underground crowd in and we easily become too materialistic. Anna's gear was writing, then she went into another world. Her inner world was very strong while her practical world was poor. But thanks to Fan Xiulan, and the visions she brokered, that the soul fertilizes the body and the soul must be present Anna could achieve balance. She says that it is about creating a clemency, an environment where the soul would come forward. When there is a balance in the soul we feel good, and heaven and earth are in balance.
Anna train every day and said, you become aware, well then transport transforms that understanding one's life. The most difficult conflicts occur in the interaction with the people who are closest to us. Why is it like that? Is it our fault in? Is it heaven that is wrong?
Anna says that our task is to have your feet on the ground and your head in the sky, balancing times of conflict in the family, or difficulties at work. Therefore, allow yourself to scout, listen and understand what the other person really intends. The story creates the present and the present creates the future.
After lunch, we were guided by Marie Bergman into the gradient's World. Marie was in his element when he divided the participants into three groups, each group received its gradient coil and then she put it all together. It was incredible the energy that filled the room of everyone toning, it created a strong sense of togetherness and joy of all participants. The voice is Maries tools along with her wonderful Tibetan bowls and guitar, she got us to soar to heights you hardly knew existed within a.
Then it was time to try Biyunakademins different treatments.
Göran Jacobson showed cupping, which means putting special cups along the meridians of the body and in particular points, Then pull the air out of the cups so vaccum created. Cupping is a heat treatment that the body likes. It gets the blood and qi to circulate, helps to increase the flow of fluids in the body, removing toxins and waste products. Cupping is softening the blood vessels become more elastic and reduces blood lipids, it dispels cold and removes heat.
Niko Nygren showed "thermal belt" which is strapped around the waist. Depending on the purpose, either strengthen or kidneys remove toxins from the body placed a designated örtkudde inside the belt and so repeat this procedure twice a day, once in the morning and once in the evening. For those who want to lose weight but combines "örtbältet" to take a special kind fruktenszym that helps to remove waste products and reduce cravings for sweets and other unhealthy foods.
Lars Johanson gave everyone a nice moment of comet stone massage. Comet stone is half material from space and the other half of the earth, magma. This unique combination has given a particular comet stone force and the vibration energy is incredibly high. Massage with comet stone increases blood circulation, relieves pain and strengthens the immune system.
During the evening, wonderful dinner held many speeches where different people told me what it meant for them to get in touch with Fan Xiulan, either in her role as teacher, or doctor. She has affected everyone differently and hopefully she felt the gratitude and love that flowed to her from all present. The last speaker Marianne Oftedahl surprised with a wonderful beautiful song to Fan Xiulan.
With great honor, we were treated first performance of "Soul Voices, a trio consisting of Lasse Englund, Lennart Simonsson and Marie Bergman. Lennart's amazing piano playing, Sunglasses incredible guitar playing along with Marie's wonderful voice, we fully trollbundna. I'm just saying Woaw - it was a magical concert!
The evening was closed down by the water where the Green Dragon placed the quantities of votives and in the glow of the beautiful light, waves lapping meditated and sang together. It was so powerful that I was sitting for a long time afterwards to be able to absorb all the wonderful energy.
On Sunday we listen to the wisdom of Annika Dopping who also interviewed Niko how it came about that Fan Xiulan came to Sweden 1992. It turned out that once or twice encountered very interesting synchronicity when Biyun developed in Sweden over the years. Anniversary ended with Fan Xiulan gave all of Wai Qi to open our hearts. Thanks all brilliant friends for a great weekend!
Maud Simmingskiöld
Instructor in the Pacific Methods