New Woman method with energy from the sky and ground,
song of the heart and powerful mantras.
This is a powerful training method with multiple purposes: inner beauty, good hormone balance, combating women's problems and menopausal symptoms, etc.. The method is composed on the basis of the family tradition, with roots in the medical business training and dating from the Yellow Emperor time. Through focus, visualizations, self massage and gentle, contemplative movement the body is vitalized.
Grandmaster Fan Xiulan has under 30 years imparted the knowledge of
the woman's method to approx 6000 women in different countries. She has now sat
together new methods with energies from heaven and earth like her
want to give as a gift to women to help their health.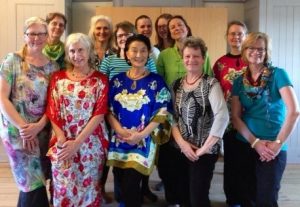 New Woman's method contains secret points in the body to
become young and beautiful, stark, happy and happy and helps
hormone balansen. new still, and exercises lying in motion.
• Food as medicine.
• New energies and old knowledge from the essence of it
Chinese medicine.
Train 30 min / day outdoors, in bed etc that can help you quickly. Daily exercise can open your wisdom, understand your path and you can help your family. If the woman is happy, then the whole family is happy.
The woman's method is a powerful training method with several purposes:
inner beauty, good hormone balance, to counteract
women's problems and menopausal symptoms, etc.. By
concentration, visualizations, self-massage and
quiet, contemplative movements are added to the body and
mind vitality and tranquility.
Actually, it is not difficult, when you know that the method is, is genuine and works. An important key is to truly love yourself, his soul and his body. This work begins with you constantly harboring positive thoughts, you each day in meditation put yourself in a quiet, beautiful and youthful state.
When you find yourself in this wonderful state, create conditions for magically opens up inside you. Your energy can make contact with the secret depths that are in your body and soul.
When you opened up this amazing transformation you become one with nature. In this natural state where you have regained contact with your conscious energy field, you realize who you are and always have been, which is a thousand years of unity.
It shows Fan Xiulan's daughter Connie woman Methods for Scandinavian participants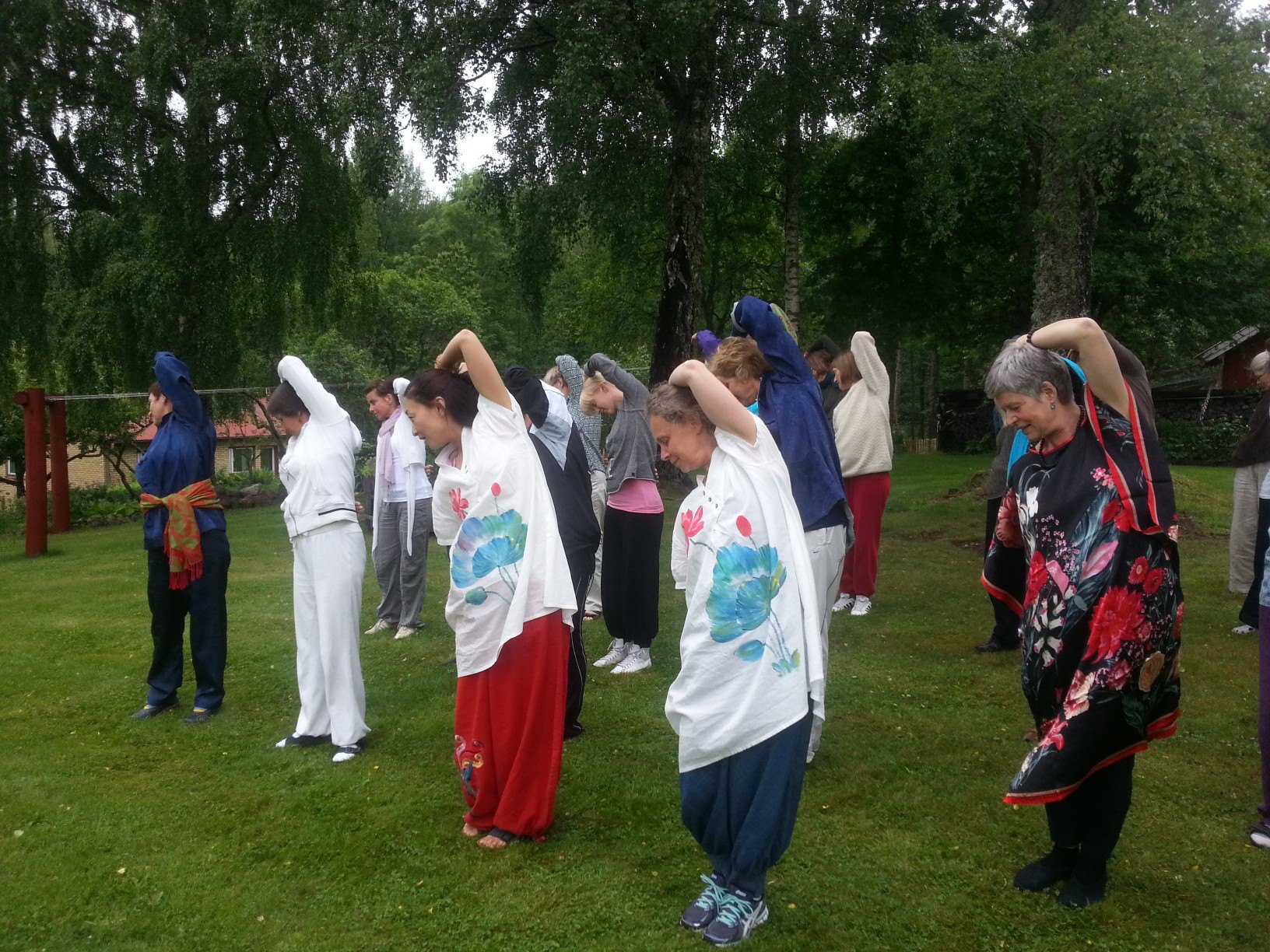 Quotes from students
"Thanks dear Fan Xiulan for a lovely fantastic course. You give so beautifully to us women in need. Making sure you make your approach, you can see the Master in you. The Master is seen when you pat me on the cheek or when you fetch me slippers, cook food, smile and with great activity lead your Biyun Academy" -Nelly.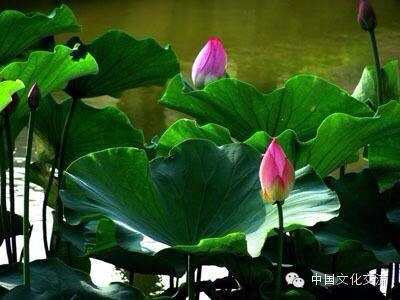 "Empty and still, feels great but I would like to stay longer in the stillness. I also feel very much lighter. The gratitude is grand.
Feelings after the method for woman. More stabile, more open in the heart and lighter mood. I need to get in contact with my femininity and all the beauty in life . Accept my body. Get more discipline and practice more. Eat the black mushrooms and drink more of the green tea. " – Anncharlotte Doverlid.
"I feel happy, happy and thankful for this course if a woman approaches. After two fun and interesting days I thank you for humbly for the new knowledge. To finally be initiated into the woman's approach fills me with joy. openness, strong feeling of Qi. Activity in Bai Hui, heat, calm, some grief. devotion. " – Jenny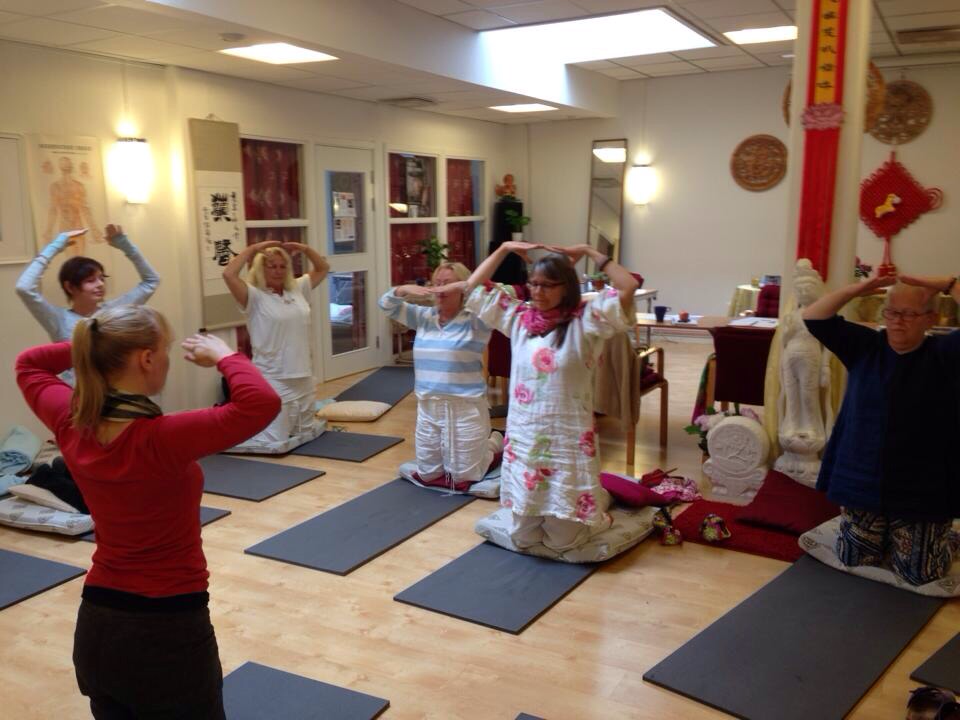 "Stillness and wholeness. Calm and tenderness, loving. Peaceful and at the same time happy and positive" – Inga Lundberg
"Sense of greatness in life. Calm wonder how great life is, and how little I devote myself. See the beauty of life from nature's eyes. After all the years of retreat of the different contexts in the world, mostly in China, my second spiritual life. Woman methods has made me more aware of my true nature, and the love of myself, how awesome I am as a living being. Cognizant of everything, respect and love for all life. Thank you for this beautiful course that has made me even more beautiful. Thank you Fan Xiulan for guidance. " – Lollo Wernäng
"The feeling is peaceful, female, warm loving and beautiful. " – Pia Lindnér
"Hopefulness- hope to find new ways to health instead of the traditional, like the regular health care provides. This course has opened new doors. Thankful for that." – Stina Rinman.
Evaluation of part 2 the woman's methods from 8 course participants.
Maud Simmingskiöld
It was a very rewarding course. When we did the exercises together great energy in the room was created. It is very powerful experiences to get to do the movements, hand positions and mantras with Fan Laoshi. She has a bright light and a very high energy level that will benefit us all. It is both an honor and joy to be allowed to participate. Many thaks, Fan Laoshi! you're the best!
Lollo Wernäng
Great day with the woman's methods, with joy and laughter. Wonderful Fan Xiulan that led us into the mystery of the woman's methods, part 1 and 2. Where the love for ourselves and everything in life, great understanding of the magnificent power we have to help others. We all are each other's brothers and sisters. To let go of the ego and being in the presence of the universe. Allowing intelligence to rest in the stillness. To allow the flow in us to shine on all life on Earth. With all love towards Fan Xiulan again and a big thank you.
Eva J
How exciting days. Training with Fan Xiulan and all positive participants, Annika as our interpreter - all this has strengthened me both body and soul. I feel like I made new friends and that I can help both myself and others. I and the participants should thank heaven, for Fan Xiulan receiving all this knowledge, that she wants to share with us. Full of joy and positive energy. THANK YOU, THANK YOU, THANK YOU!
Jannie
After these days I'm more interested by Fan Xiulan experiences about nutrition, spiritual things, movement training etc.. Want to learn more about this and will in the future take "The Five Elements". The methods are a tool for me to take to the stresses of life, so I gladly rise up earlier every morning to do it. It is a new way for me to live!
Jessica
My warmest thanks to you Grandmaster Fan Xiulan you for showing me the female wisdom door. I have during this weekend knocked on the door, opened it and taken their first step on an exciting new path. You are a warm, generous, beautiful and very wise woman. Thank you for the way you have invited me to your wisdom. After these days, I feel full of peace, energy and secrets. And a curiosity for more. Looking forward to the woman's methods steps 3 and 4.
My heartfelt thanks!
Previous knowledge: No.
I know Current training programs for the next course.