Lördagen den 26 september 2015 höll Biyunakademin öppet hus.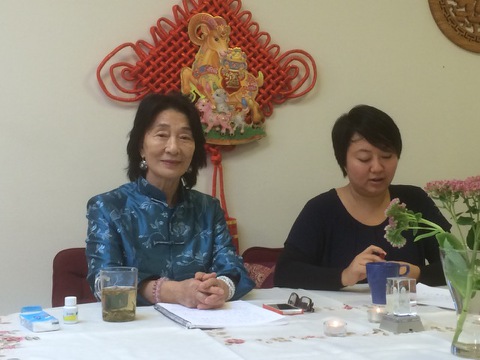 Det var många människor som kom för att teckna medlemskap i Biyunakademin för 2016 och prova på örtfotbad i lugna oasen, vila på kometstensbädden eller flotating i flyttanken. The participants also try to movements of rejuvenation methods and dolphin force.
The deal was offered health products of various kinds as organic Theer, gojjibär, skogsöron mm. Many took the opportunity to buy the bracelet or necklace of semiprecious stones such as amethyst, aquamarine, rose quartz, tourmaline, citrine stones etc.. These ornaments are not just beautiful to look at, they have also spent a healthy effects on the person who wears them.
When it was time for Grandmaster Fan Xiulan lecture on the health of the autumn benched himself all and got knowledge of why it is so important to build up their yang energy and good advice how to proceed in order to strengthen yang energy in the body during the fall.
Fan Xiulan said that some people worry ahead of autumn. It's the time of year when the days get shorter, heat lost, the skin becomes drier, some lose hair and feel generally uncomfortable. In nature it is yang decreases, while yin is increasing. But autumn brings many gifts as fine apples in the garden and mushrooms in the forests as well that the children are growing and getting bigger.
Fall is an important time to prepare, so we have strong yang energy before winter. One should not eat cold, such as ice cream nor drinking cold drinks such as soft drinks and ice water, because then you lose body yang energy. Those who built up strong yang energy becomes less susceptible to colds in fall or other imbalances in winter.
What can you do? Fan Xiulan advice was to keep warm and if you freeze, be sure to get up the heat. You can do so by taking warm footbath, daily train movement training and take invigorating walks in the countryside.
She recommended us to eat sweet potatoes and regular potatoes, gojjibär, forest ears, ginger and garlic which are foods that increase the yang energy in the body.

But most important of all,, enligt Fan Xiulan, is to control your thoughts in positive courses. She recommended us in our hearts, visualize a large, warm sun whose rays warm up every cell in the body. That you really feel and experience the heat inside. The body's happiness often depends on the weather, but man is an advanced creature, Therefore, we can always control our thoughts and see a sun in our heart and Dantian and be assured that the sun is always there behind the clouds.
Be aware that your thoughts, either make you happy or make you sad and depressed. Therefore it is important that you think in positive thoughts, speaks in positive terms, that way you spread joy both to yourself and your loved ones. You create a virtuous cycle because you get energy from the universe, and when you spread the joy you receive more energy from the universe.
Sweden is a country located in Northern Europe with chilly autumn and wet, cold winters. Then the heat is extra important for its inhabitants. You have today tried different things that increase your heat. Most important, however, to accommodate the joy in his heart.
When you wake up, Start your day with thinking; -Ohh, a new beautiful day, drink a glass of warm water with some lemon slices in, was happy that you have good chair once when making the body itself of waste products and toxins. When you stand in the bathroom and brush your teeth, look in the mirror, tank; -Ohh, I am getting younger day by day.
When you go out, expect to meet nice people. Was simply grateful for all. Even if you have difficulties in your life, tell yourself that you love you. When you harboring positive thoughts transformed such that you now perceive as negative, eventually into something positive.
Avoid when you wake up in the morning thinking; -Oh well, en ny dag, what a shame. Your thoughts do when you have less yang energy in the body than necessary.
Ensure that all have a happy, bright sun inside. In winter, when the sun rises at ten in the morning and down already two o'clock in the afternoon, You can choose to have your own sun in Dantian.
Finally, I want to thank Fan Xiulan for the love and wisdom you imparted and all the helpers who with his enthusiasm and good work input made sure everything went well during the day to all participants benefit and enjoyment!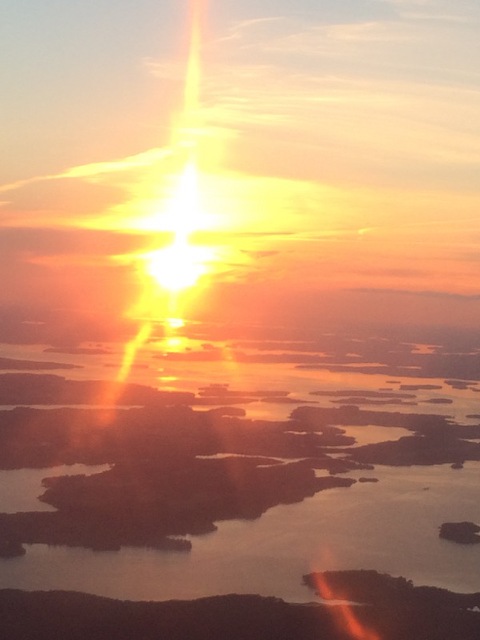 Maud Simmingskiöld